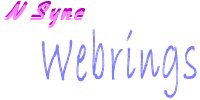 More Web rings for you to travel through, sorry that they are in two pages, I thought it would load faster if I split them up! You will definitely enjoy surfin' around in all these web rings! Back to first webrings.
This *N SYNC - Crazy for You! site owned by Donna.

To join this Web Ring, click here.